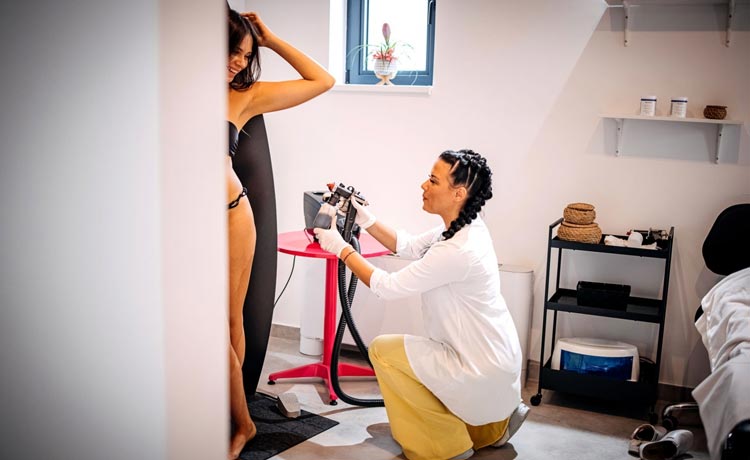 Amidst the vibrant city of New York, where fashion, art, and culture harmoniously blend, maintaining a sun-kissed glow throughout the year has become an integral part of the urban lifestyle. With the hustle and bustle of high-rise buildings and the fast-paced daily routine, the demand for achieving the perfect tan has given rise to a plethora of tanning salons and mobile spray tan services. Among these, Mobile Spray Tan NYC stands out as the premier provider of exceptional spray tanning solutions. Let's explore the convenience and excellence that the company Soleil Spray offers as a leading mobile spray tan service in this dynamic city.
Why Opt for Mobile Spray Tan in NYC?
With a dynamic and ever-changing city like New York, time is of the essence. People are always on the move, and convenience becomes paramount in their daily routines. This is where Mobile Spray Tan NYC by Soleil Spray comes to the rescue. The concept of mobile spray tanning offers a seamless experience, as it eliminates the need for clients to travel to a tanning salon physically. Instead, Soleil Spray's team of skilled technicians brings the tanning salon to the comfort of your own home or any preferred location.
Soleil Spray's Expertise
Soleil Spray takes pride in its team of highly trained and experienced technicians. These professionals are well-versed in the art of sunless tanning and the latest tanning techniques. They understand that achieving the perfect spray tan is an art form that requires attention to detail and precision. By using top-of-the-line equipment and premium tanning solutions, Soleil Spray ensures that each client receives a flawless, natural-looking tan that suits their skin tone and desired level of color.
Customized Tanning Solutions
One of the significant advantages of Soleil Spray is its ability to provide customized tanning solutions. No two individuals are alike, and their tanning needs may vary as well. The technicians at Soleil Spray take the time to understand each client's preferences, skin type, and desired outcome. This personalized approach allows them to create a tailored tanning plan, resulting in a tan that looks as if it were kissed by the sun.
Safe and Skin-Friendly Products
Soleil Spray is committed to the well-being of its clients and only uses safe and skin-friendly tanning products. Their solutions are free from harmful chemicals and are enriched with nourishing ingredients that moisturize and rejuvenate the skin. This attention to product quality ensures that clients not only achieve a beautiful tan but also maintain healthy skin in the process.
Convenience at Your Doorstep
Imagine stepping out of your busy schedule and coming home to a luxurious tanning experience right at your doorstep. With Soleil Spray, this becomes a reality. Mobile Spray Tan NYC allows clients to book an appointment at their preferred time and location, be it their home, office, or any other spot that is convenient for them. This flexibility enables New Yorkers to make the most of their time while still enjoying a pampering session.
Preparation and Aftercare Guidance
To ensure that clients achieve the best results from their spray tan, Soleil Spray offers comprehensive preparation and aftercare guidance. Before the appointment, clients are advised on how to properly prepare their skin for the tanning session, ensuring a smooth canvas for the tanning solution to adhere to. After the tan is applied, technicians share tips on how to maintain the tan for an extended period, as well as how to nurture the skin to preserve its glow.
Conclusion
In the city that never sleeps, having a radiant and natural-looking tan can enhance one's confidence and style. Mobile Spray Tan NYC by Soleil Spray offers the perfect solution to achieve that coveted sun-kissed glow without compromising on convenience and quality. With their skilled technicians, personalized approach, safe products, and at-home service, Soleil Spray has positioned itself as a top choice for those seeking a flawless and hassle-free tanning experience in the bustling metropolis of New York. Embrace the beauty of a glowing tan with Soleil Spray and take a step towards elevating your tanning journey.