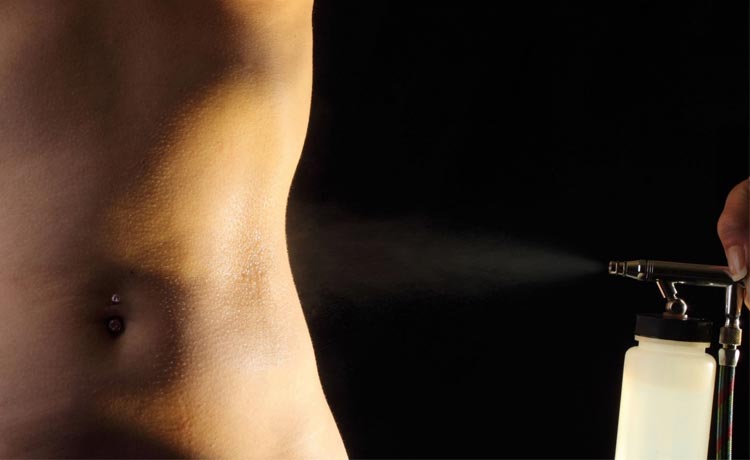 In the city that never sleeps, maintaining a healthy and radiant glow can be a challenge. The bustling streets of New York City offer countless opportunities and experiences, but they can also take a toll on your skin. Whether it's the harsh urban environment or a busy schedule that leaves little time for sunbathing, a spray tan can be a game-changer for achieving that sought-after sun-kissed look. If convenience, quality, and a seamless experience are what you seek, look no further than Soleil Spray – your go-to for the best At home Spray Tan in NYC.
Unveiling the Beauty of Mobile Spray Tanning:
Mobile spray tanning has emerged as a revolutionary solution for those who want a natural-looking tan without the harmful effects of UV rays. This trend has taken the beauty industry by storm, and it's not hard to see why. The convenience of having a professional spray tan technician come directly to your location is unmatched, particularly in a bustling metropolis like New York City, where time is of the essence. Whether you're preparing for a special event, looking to maintain a year-round glow, or simply craving a confidence boost, mobile spray tanning offers a flexible solution tailored to your needs.
Introducing Soleil Spray: Elevating Mobile Tanning to a New Standard:
Among the myriad options available in the city, Soleil Spray stands out as a beacon of excellence in the mobile spray tan industry. With a reputation for delivering flawless, customized tans, Soleil Spray has become a staple in the beauty routines of New Yorkers who demand only the best. Their commitment to quality, combined with the convenience of their mobile services, makes them a top choice for those seeking a radiant tan without compromising their busy lifestyle.
The Soleil Spray Experience:
What sets Soleil Spray apart is their dedication to providing a personalized experience that ensures each client's unique needs are met. Upon booking an appointment, a skilled technician from Soleil Spray will arrive at your chosen location fully equipped with state-of-the-art equipment and premium tanning solutions. Before the application process begins, the technician will engage in a thorough consultation to understand your desired shade and any specific skin considerations. This attention to detail guarantees a result that complements your skin tone and achieves a natural, sun-kissed look.
Quality beyond Compare:
Soleil Spray takes pride in using only the highest quality tanning solutions, formulated to deliver a flawless finish and a long-lasting tan. Their solutions are meticulously crafted to ensure even application and fade evenly, giving you a tan that looks just as good on day seven as it did on day one. This focus on quality not only ensures a stunning result but also safeguards your skin's health, as all their products are free from harmful chemicals and toxins.
Tailored to Your Schedule:
In a city where time is a precious commodity, convenience is key. Soleil Spray understands the demands of a busy New Yorker's lifestyle, which is why they offer flexible appointment scheduling. Whether you're a morning person or need a late-night session, Soleil Spray accommodates your preferences, making it easier than ever to attain that coveted glow without disrupting your routine.
Mastering the Art of the Perfect Tan:
The technicians at Soleil Spray are true artisans when it comes to achieving the perfect tan. Their expertise lies in understanding the nuances of different skin types and tones, ensuring that the tan is applied seamlessly, without streaks or uneven patches. This level of skill is honed through training and experience, guaranteeing that you'll leave each session looking and feeling your best.
A Commitment to Client Comfort:
Soleil Spray's commitment to excellence extends beyond the tanning application itself. Their technicians are not only highly skilled but also personable and professional, creating an atmosphere of comfort and ease during each session. They prioritize open communication, actively listening to your preferences and concerns to tailor the experience to your liking. This dedication to client comfort ensures a positive and enjoyable experience from start to finish.
Maintaining the Glow:
Soleil Spray doesn't stop at providing an exceptional spray tan experience; they're also dedicated to helping you maintain your glow. Their technicians offer valuable aftercare advice, ensuring that your tan lasts as long as possible. By following their recommendations, you can enjoy your radiant look for up to a week, showcasing your sun-kissed glow to the world.
Booking Your Soleil Spray Experience:
Booking an appointment with Soleil Spray is as easy as it gets. Through their user-friendly online platform, you can select your preferred date, time, and location for the tanning session. The process is seamless, reflecting the company's commitment to providing a hassle-free experience that aligns with the fast-paced nature of New York City.
In conclusion, if you're in search of the best mobile spray tan experience in New York City, Soleil Spray is your answer. Their dedication to quality, convenience, and client satisfaction sets them apart in a sea of options. By combining the expertise of skilled technicians with premium tanning solutions, Soleil Spray guarantees a flawless, customized tan that enhances your natural beauty and leaves you feeling confident and radiant. Experience the future of tanning with Soleil Spray, where luxury meets convenience in the heart of the city that never sleeps.