We provide you the chance to get airbrushed at your place comfortably we try our best to make your tan look more natural. Our mobile airbrush tanning services are for everyone and you don't need to get worried about rain, wet weather, time or childcare because we come to your place for your convenience and ease and also to make you feel more comfortable. We can set our equipment wherever you want us to set it without leaving any kind of a mess. Our experienced technicians want to give you a slimmer look by improving your appearance and enhancing your features to make you feel confident and beautiful inside and out. A mobile airbrush tan is the easiest and quick way to get a gorgeous glow on your skin without any harm. Our certified technician applies the tanning solution with the help of a compressor and airbrush because it gives your skin a bronzing effect. Our method is not only effective but also a healthier one. We aim to give you a 100% organic tan without any lines or burns.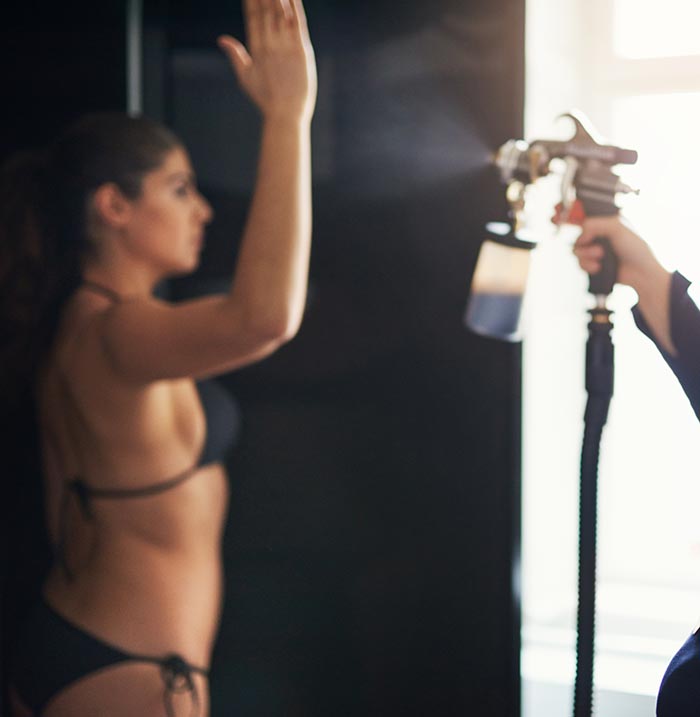 If you want to refresh your skin so airbrush tanning is always the best option to choose. It's a quick and convenient way to achieve a healthy sun-kissed glow. In this, our special technician applies every detail by hand so that you can easily get the look you want by not putting your health in danger also there is no risk of any kind of skin disease or accelerated skin aging and irritation.
All the ingredients we have are natural and organic and free of harmful chemicals. Our experienced team use professional techniques to give your tan a naturally glowing and radiant look. With our Mobile Airbrush Tanning service you can get a realistic tan at your home, office and studio by staying in your comfort zone and also you will not have to walk half naked in public because 'we care about your privacy. So without wasting time book your appointment now and you can also book your appointments online.